V2 TOKYO
Roppongi's Largest Nightclub
Once you pass through the characteristic entrance, you will find yourself in an extraordinary world that is full of excitement every night. Since its grand opening on the top floor of the Roa Building in 2013, V2 TOKYO, which has always been the driving force behind Tokyo's No. 1 When you go down to the main floor through the gorgeous black and gold-based reception, you will be greeted by a gigantic crystal chandelier that shines like a large flower. The other floor is a high-grade lounge where you can enjoy high-quality sounds and cocktails to your heart's content. We are the only place where you can enjoy new-age entertainment that stimulates all five senses to the maximum with Tokyo's best performances and sound and light productions that make full use of cutting-edge technology, 24/7. Please enjoy it to your heart's content.
Regular system *Subject to change on special days
All customers are required to present identification (driver's license, passport, basic resident registration card) when entering. Also, those under the age of 20, those who drink excessively, and those who belong to anti-social forces are strictly prohibited from entering. We also ask that you come to our store in smart casual attire.
Payment can be made by cash, credit card (VISA/MasterCard, JCB, UnionPay, Diners, AMERICAN EXPRESS), WeChat Pay, bitcoin.

It will be a set fee for all seats for 2 hours.
The set fee includes admission for up to 4 men per seat. Table charge + order for number of bottles listed is required. A 22% service charge will be added separately.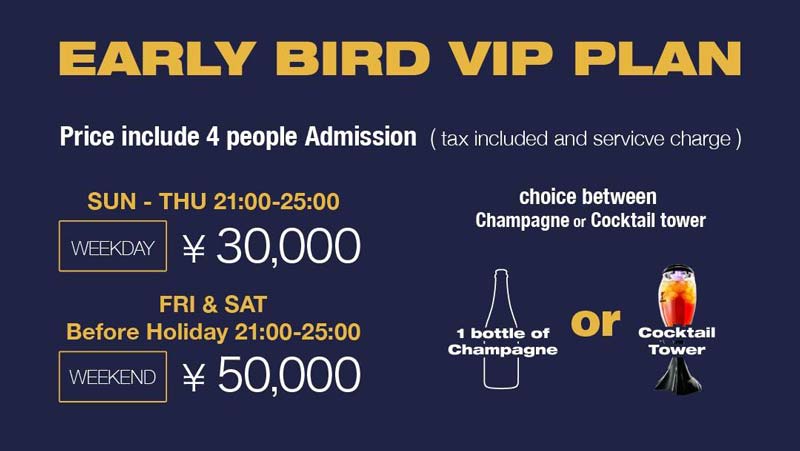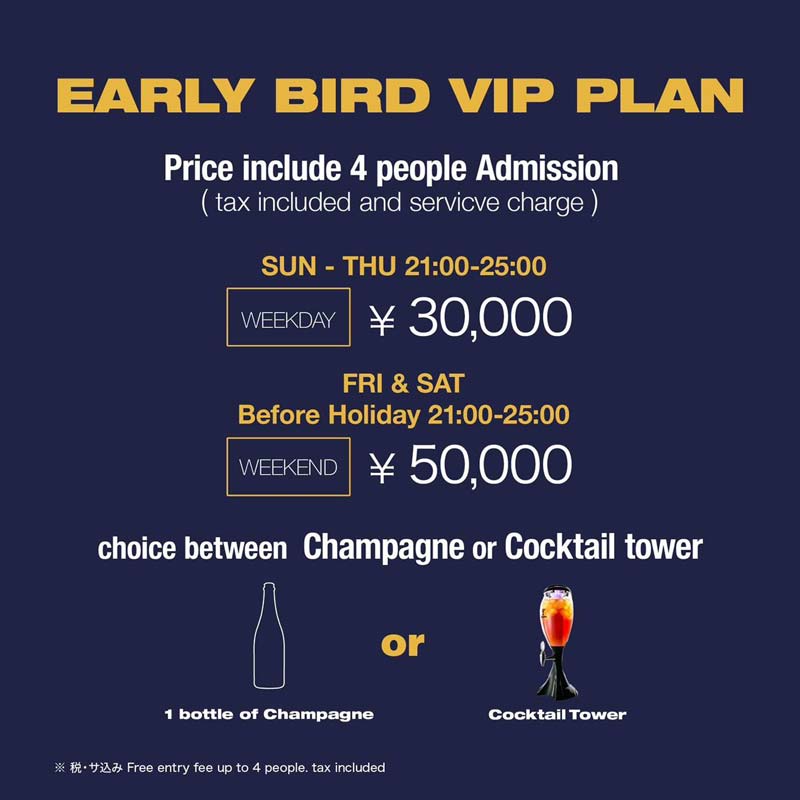 In Europe and the United States, clubs are positioned as the most important social gathering places in nightlife. Demand is already increasing not only for late-night club use, but also for corporate and individual charter parties and event venues during the daytime. In addition, cooperation as a business partner is increasing. In order to meet these needs, FANCY TOKYO proposes club-specific facilities, performances, and planning. In the future, in order to build a good relationship, aim for mutual development, and let people know about the place called "club", we will start with charter parties such as year-end parties, new year parties, social gatherings, welcome and farewell parties, kick-off parties, incentive parties, etc. We guide you on how to use it.
7-13-7 TOWER OF VABEL 1F/B1F, Roppongi, Minato-ku
Tokyo 106-0032
1-minute walk from Exit 7 of Roppongi Station on the Oedo Line
1-minute walk from Exit 4B of Roppongi Station on the Hibiya Line
For party bookings, VIP bookings, questions, inquiries, etc., please click here.